Join Our Team!
Thank you for your interest in Mountain Vista
Mountain Vista Senior Living Community in Wheat Ridge is a proud provider of exceptional resident care, delivering services that empower individuals to live life to the fullest. If you are interested in a career where your commitment and compassion have a positive impact on the lives of others, we want to hear from you!
View our current openings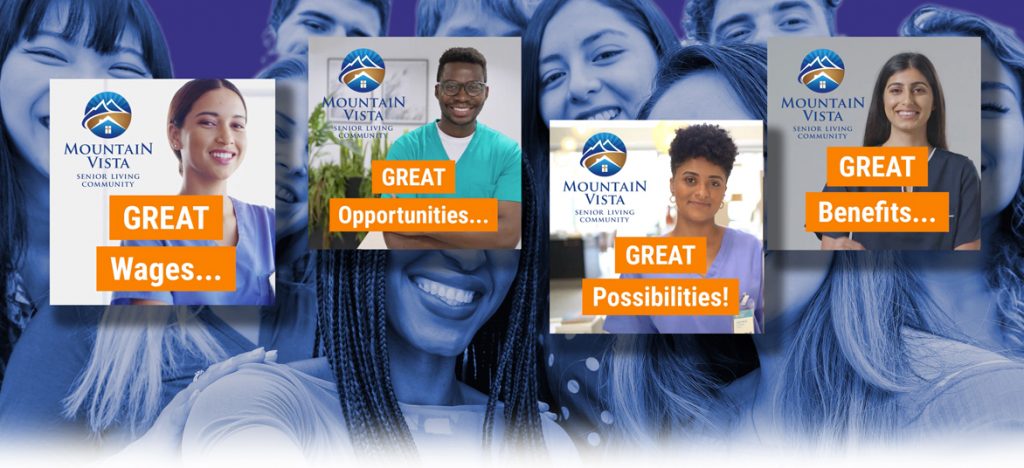 The advantages of joining our team:
Great compensation and the opportunity to pursue your passion.
Great benefits and the chance to develop meaningful relationships with residents and staff members.
Click and make your move to Mountain Vista today!
Mountain Vista is looking for individuals who thrive in a supportive and rewarding environment—both professionally and personally. We offer opportunities in a variety of areas—including nursing care, dining services, environmental services and more—while providing the ongoing training and resources you need to keep your career moving forward.
Mountain Vista is not just a place to work—we are a family of professionals and caregivers coming together to create a loving community of trust, respect and caring. Come join our team!!
---

About ABHM
Mountain Vista is owned and operated by American Baptist Homes of the Midwest (ABHM), a not for profit provider of senior living and health care services. Since 1930, ABHM has worked to create healthy Christian communities that empower older adults, families and people with disabilities to live life more fully—with security, dignity and purpose. An equal opportunity employer, ABHM values diversity and promotes inclusion in all we do.